How good is the Kakapō?
The Kakapō 267 is a stunning design with space for everyone in the family. You'll fall in love with the features we've rolled into this well thought out design.
Media Room and Alfresco
The media room and alfresco combo has been designed with New Zealand's sporting culture in mind!
The large window between the alfresco area and media room allows easy viewing of the TV inside and creates a great bar-like environment. From outside, the TV is easily viewed thanks to the darker interior of the media room.
Sports Bar Upgrade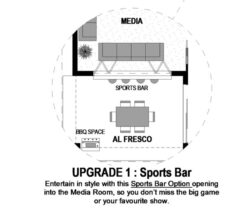 The 'sports bar' upgrade option adds a great viewing perch for the crowd outside. Better still, spilt drinks and chips stay outside.
In the media room, comfort is the priority with the family relaxing in recliners and babies playing on the floor.
Everyone's together, but thoughtfully and practically separated at the same time. A really smart layout that will be the catalyst for many great family times.
Space for Everyone
The Kakapō 267 is a stunning design with space for everyone in the family. This design has four spacious bedrooms including a master with a walk-in robe and ensuite. The open plan kitchen and living area combined with a generous alfresco area makes the home perfect for hosting gatherings with family and friends. Don't forget the walk-in pantry – making life just that bit more convenient. The Kakapō 267 is a compact design while still being packed with features and well-designed spaces.
Upgrades
This stunning single storey home design comes with a number of highly desirable upgrades including a butler's pantry in place of the walk-in pantry, a sports bar connecting the media room to the alfresco, or ultra-clean alfresco pocket door to bring the outdoors in.